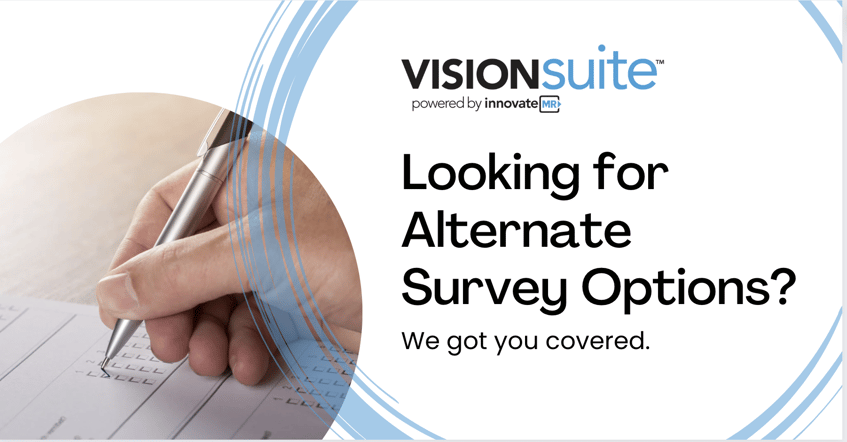 Google is sunsetting their Google Surveys and Surveys 360 consumer research platform on November 1, and the last day to receive historical data is December 1. Surveys that are currently in field past November 1 will continue to field where possible until completion. All others with a current account will be offered a refund.
According to the Google Support page, they state "While we believe in our mission of enabling businesses of all sizes to run custom market research with an easy to use and affordable tool, we do not believe the existing product is the best way to do this going forward. The Surveys team will be working to find new ways to bring the scale & insights of our research network to customers via Google Ads products for advertiser, customer, and market research."
Google so far has not offered a market research product replacement.
Today's Demand for Insights
The research ecosystem is constantly evolving and as business needs grow, there is an increasing demand for insights to answer questions and predict trends. Throughout every industry vertical, it is important for leaders to understand their customers' needs and obtain quality product and service feedback on how to improve through an advanced consumer research platform.
Considering the swift pace of change, the speed of the news cycle, and the overwhelming requirement for companies to respond to what's happening in the world; past data can no longer predict the future or truly lead companies to how to respond tomorrow. Businesses today need the ability to deliver deeper and more meaningful insights, faster.
Who is InnovateMR?
InnovateMR is leading the market research industry, providing insights to businesses around the world to help them make better and more informed decisions. With our award-winning services and tools, you eliminate the guessing game of wondering if you're reaching your target audience with the right messaging at the right time. InnovateMR has developed a consumer research platform to support your ongoing survey needs: Vision Suite™ is an all-in-one tool that provides survey building, audience reach, and assurance that you can trust your insights.
What is the Vision Suite?
The award-winning Vision Suite consumer research platform offers a flexible model that can be customized to fit best with your team. Our platform offers unlimited users, unlimited surveys, and unlimited responses with no added fees, contracts, or minimums. You can choose to independently build and field your survey or you can utilize our "Do-It-Together" model with ongoing support from our seasoned research team.
When it comes to building out your questionnaire, you can fully customize your survey with different themes, personalized templates, and multi-media options to enhance the experience of your audience. The Vision Suite has frequently-used question formats to choose from as well as preset answer selections. Our piping and advanced logic features ensure that each participant stays engaged throughout the entire interview process.
The Vision Suite's consumer research platform was built on over 20 years of sampling and panel-building experience. Define and access your target audience through direct access to our panel of vetted survey participants with transparent pricing and feasibility. Leverage targeting tools to help you specify the exact participant voice you need with in-depth demographic profiling and access to some of the most difficult of audiences worldwide. Schedule your survey's launch and monitor performance with email and text alerts to make project management as easy as possible.
With several award-winning tools that protect your data against fraud, the Vision Suite consumer research platform can validate open-ended answers for PII, profanity, contextuality, and more. Utilize proprietary tools to prevent straight-lining, catch pattern detection, and flag for speeders. In partnership with CloudResearch, the Sentry tool adds audience-specific red herring questions to your survey.
Why partner with InnovateMR?
We have over 4,500 satisfied clients worldwide wide spanning over 35 countries. We have delivered 11,000 B2C projects and 5,500 B2B projects and counting, as well as over 10 million survey completes each year. InnovateMR is dedicated to customer delight, and we view each client relationship as a partnership. Your success is our success, and our team will be there every step of the way. Our proprietary panel, PointClub provides engaged, quality audience participants from around the world that are vetted through 40+ industry-leading quality methods to ensure you get the answers you can trust.
---
InnovateMR is a fiercely independent sampling company that delivers faster answers from business and consumer audiences. As industry pioneers, InnovateMR connects organizations with market research audiences around the world to support informed, data-driven strategies, and identify growth opportunities. InnovateMR has built its reputation on a relentless pursuit of customer delight. Stop working with vendors, and start working with a partner dedicated to your success.