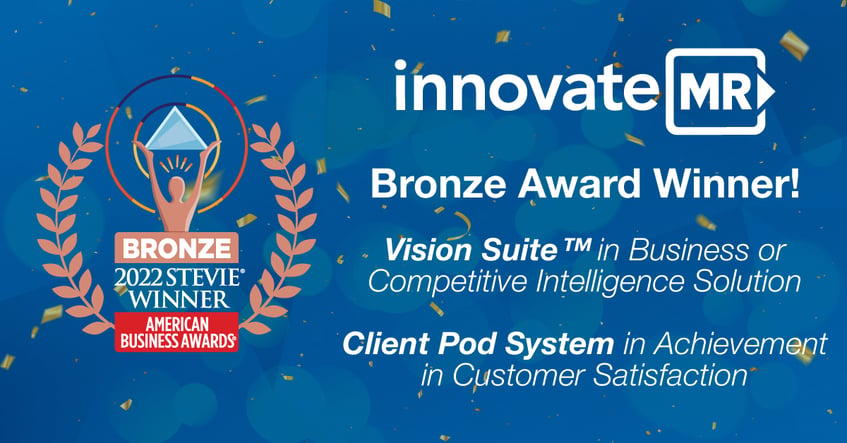 CALABASAS, CA – InnovateMR was named the winner of a Bronze Stevie® Award in the Business or Competitive Intelligence Solution category with the innovative Vision Suite™ and a Bronze Stevie® Award in the Achievement in Customer Satisfaction category for our new Client Pod System in the 20th Annual American Business Awards® today.
"We are so thrilled to receive this recognition as we continue to innovate for the future of the market research industry," InnovateMR CEO, Lisa Wilding-Brown, said. "This honor reflects InnovateMR's steadfast commitment to advancing the power of research technology, empowering brands to eliminate blind spots, craft authentic and intelligent messaging, and enact actionable business change."
InnovateMR was recognized with a Bronze Stevie Award in two categories.
InnovateMR's Vision Suite™ - Business or Competitive Intelligence Solution
The Vision Suite is a comprehensive collection of next-generation insights products that empowers researchers to take even more control of their insights. In the ever-changing business and consumer landscape we are living through today, brands are facing enormous pressure to make data-driven decisions and pivot strategies effectively. The Vision Suite, including InnovateMR's Bronze Stevie award-winning technological advancement, Text Analyzer™, reduces time and cost to insights without compromising data quality and reliability. It includes:
Agile survey creation tools with templatized questions crafted by our research experts.
Engaged targeted survey participants from our proprietary B2B and consumer audiences in 27+ countries.
Precision field management tools including scheduled launch, real-time alerts via text or email, and custom quota threshold settings.
InnovateMR's advanced fraud mitigation checks and tools including the award-winning Text Analyzer, evaluating open-end responses at scale.
Reporting analytics and global filtering functionality.
A Do-It-Together approach, with access to a network of experienced consultants and a team of Vision Suite technology experts.
"While many survey firms have been started and in fact made successful in recent years, thanks to the data research and procurement companies, InnovateMR is making the model work in a slightly different way and thereby adding value to the chain. I wish them the best!" a Stevie Awards judge commented.
InnovateMR's Client Pod System – Achievement in Customer Satisfaction
Instead of one support team that oversees large sectors of clients with limited resources left for smaller organizations, the InnovateMR Client Pod System assigns one consistent group to just a few clients that will stay with them throughout their customer lifetime.
There is often a disconnect and lack of deep nuance understanding in the market research customer journey, as clients are assigned different project managers based on first availability. Instead, in the Pod System, clients interact with a consistent support team that builds a strong foundation for the entire client lifecycle.
"Dedicated teams build long lasting relationships with clients and form strong bonds," a Stevie Awards judge commented. "[The InnovateMR Pod System] ensures that the team knows and is close to the business of the client, making the relationship seamless."
The American Business Awards are the U.S.A.'s premier business awards program. All organizations operating in the U.S.A. are eligible to submit nominations – public and private, for-profit and non-profit, large and small. More than 3,700 nominations from organizations of all sizes and in virtually every industry were submitted this year for consideration in a wide range of categories. More than 230 professionals worldwide participated in the judging process to select this year's Stevie Award winners.
"We are so pleased that we will be able to stage our first ABA awards banquet since 2019 and to celebrate, in person, the achievements of such a diverse group of organizations and individuals," said Maggie Miller, president of the Stevie Awards.
About InnovateMR
InnovateMR is a fiercely independent sampling and ResTech company that delivers faster answers from business and consumer audiences utilizing technologies to support agile research. As industry pioneers, InnovateMR connects organizations with targeted audiences around the world and develops forward-thinking products to support informed, data-driven strategies, and identify growth opportunities. Learn more about InnovateMR at www.innovatemr.com.
About the Stevie Awards
Stevie Awards are conferred in eight programs: the Asia-Pacific Stevie Awards, the German Stevie Awards, the Middle East & North Africa Stevie Awards, The American Business Awards®, The International Business Awards®, the Stevie Awards for Women in Business, the Stevie Awards for Great Employers, and the Stevie Awards for Sales & Customer Service. Stevie Awards competitions receive more than 12,000 entries each year from organizations in more than 70 nations. Honoring organizations of all types and sizes and the people behind them, the Stevies recognize outstanding performances in the workplace worldwide. Learn more about the Stevie Awards at http://www.StevieAwards.com.