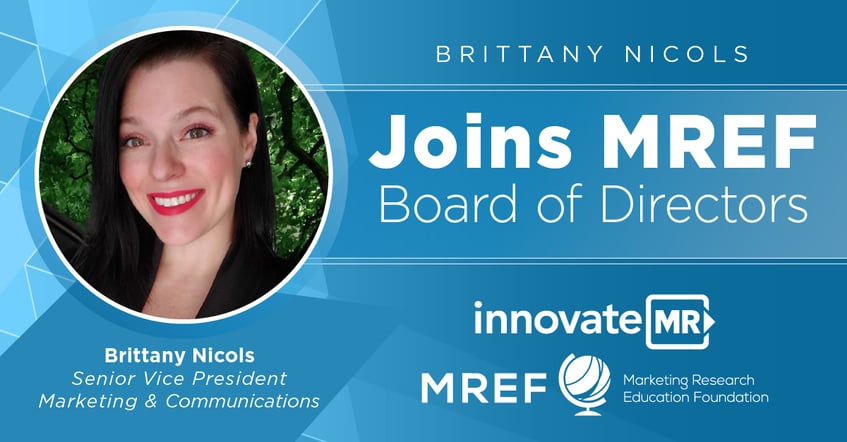 SAINT PAUL, Minnesota – InnovateMR SVP, Marketing and Communications Brittany Nicols (pictured above) has recently joined the board of directors of the Marketing Research Education Foundation (MREF).

The MREF is a high-profile, industry-wide initiative that involves researchers from every level of the marketing research industry across the globe. The foundation uses financial and human resources to provide the tools necessary to give children access to a quality education.

As a member of the board, Nicols will help drive MREF strategies and initiatives and monitor the organization to ensure it is fulfilling its vision, mission and values.
"I am so thrilled to be joining the MREF Board of Directors, an important philanthropic organization in our space that champions children's access to education around the world," Brittany Nicols said. "I am looking forward to being a driving force for the organization and helping them to fulfill their mission alongside other distinguished and passionate members of the market research industry."
With 15+ years of experience in the industry, Brittany Nicols has honed her proficiency in nearly every stage of the research journey. She has held leadership positions as a buyer of research and as a provider, allowing her a deep understanding of what clients are looking for in a partner and what it takes to execute successful research projects. At InnovateMR, she is responsible for developing and executing the global marketing strategy through the creation of impactful marketing campaigns/materials, maintains brand standards and ensures compliance across all marketing and communications channels and bridges the gap between marketing and sales in order to cultivate long-term relationships with clients.
About InnovateMR
InnovateMR is a fiercely independent sampling and ResTech company that delivers faster answers from business and consumer audiences utilizing technologies to support agile research. As industry pioneers, InnovateMR connects organizations with targeted audiences around the world and develops forward-thinking products to support informed, data-driven strategies, and identify growth opportunities.
InnovateMR's newest award-winning product collection, the Vision Suite™ offers researchers a comprehensive collection of next generation products designed to execute against all aspects of the research process including survey design, sample procurement, field management, fraud mitigation and reporting. Our proprietary platform delivers results faster without sacrificing quality. Visit www.innovatemr.com .
About the Marketing Research Education Foundation (MREF)
The Marketing Research Education Foundation's mission is to unify, inspire and activate the marketing research community to focus its collective resources to educate children and youth worldwide. With the collective contributions of more than 100 organizations in the industry, the MREF has made a positive impact on the lives of hundreds of children and their families. Visit MRGivesBack.org or contact Sarah Freske at sarah@mrgivesback.org for more information.