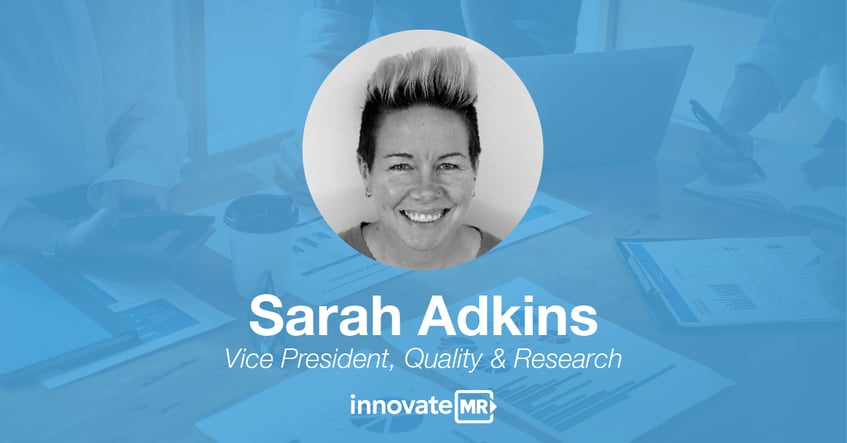 CALABASAS, CA –InnovateMR is continuing its dedication to best-in-class data quality and survey fraud mitigation with the appointment of Sarah Adkins, Vice President of Data Quality & Research. Sarah will work closely with both the panel recruitment and research teams to ensure that InnovateMR's award-winning data quality methodologies and tools continue to evolve against the complex landscape of survey fraud.
About Sarah Adkins, Vice President of Data Quality & Research
Sarah has 22+ years of experience in the market research industry with specialties including research, strategic planning, operations management, data analytics, and data storytelling. Data quality has been a critical focus throughout her career at both Harris Interactive (now Nielsen) and Edelman, and she understands first-hand the lengths fraudsters will go to circumvent the system.
"As the online survey ecosystem has continued to advance in our industry, so have the tactics of fraudsters with nefarious intentions. This requires sample companies and their client partners to work closely together in tandem to increase both survey participant scrutiny and deploy new strategies to mitigate risk." InnovateMR CEO, Lisa Wilding-Brown, said. "Sarah's addition to the team, as well as our new partnership with Cloud Research and their Sentry tool, ensures that we remain on the cutting edge of survey fraud technology."
Throughout her tenure, Sarah has excelled at building highly successful teams. Sarah is deeply passionate about cross-departmental communication, bringing teams together for a common goal, empowering young professionals to find their voice, and is a people leader at her core.
"I am thrilled for the opportunity to join the InnovateMR team and continue to advance their already impressive data quality standards. The technology products and methodologies spearheaded by Lisa and the greater executive team drew me in as these strategies are the best I've seen throughout my research career." Sarah said. "As a former client, I always appreciated InnovateMR's focus on data quality; their transparency about the challenges connected to cyberfraud and their frequent thought leadership on the topic resonated with me. I simply had to join this incredible company."
About InnovateMR
InnovateMR is a fiercely independent sampling and ResTech company that delivers faster answers from business and consumer audiences utilizing technologies to support agile research. As industry pioneers, InnovateMR connects organizations with targeted audiences around the world and develops forward-thinking products to support informed, data-driven strategies, and identify growth opportunities.
InnovateMR's newest award-winning product collection, the Vision Suite™ offers researchers a comprehensive collection of next generation products designed to execute against all aspects of the research process including survey design, sample procurement, field management, fraud mitigation and reporting. Our proprietary platform delivers results faster without sacrificing quality.