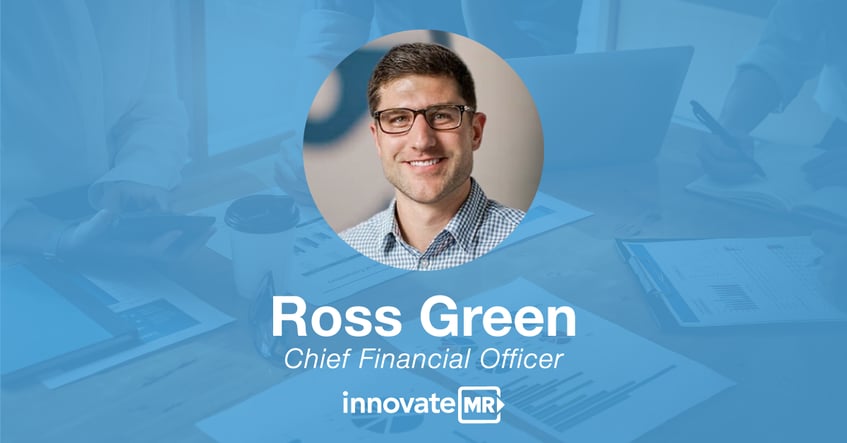 CALABASAS, CA – InnovateMR has expanded its executive leadership with the addition of Ross Green, a veteran financial executive with demonstrated success in financial planning/analysis and corporate business development. Ross comes in at a time of exponential global growth for the InnovateMR team following private equity investment from CIVC Partners.
About Ross Green – InnovateMR Chief Financial Officer
Ross moved into the SaaS/technology space in 2012 after several years in the investment banking industry at UBS Investment Bank. He has transitioned to senior leadership at private equity-backed companies that are looking to take the next step in scaling their operations, most recently at the driver risk management company, eDriving.
"We are thrilled to welcome Ross to the InnovateMR executive team. He brings a wealth of knowledge and an enthusiastic attitude that will be crucial to our continued company growth," Lisa Wilding-Brown, InnovateMR Chief Executive Officer, said. "He has several years of experience scaling company revenue, specifically at B2B companies that are private equity-backed, such as InnovateMR, and we look forward to collaborating with him as we continue our next chapter and continued dedication to faster high-quality answers."
Working best in fast-paced environments with teams still very much in the entrepreneurial mindset, he has built out sales, marketing, finance, human resources, and led several successful buy-side and sell-side acquisitions.
"The InnovateMR team has done a tremendous job of growing into a successful company so far. The team always works together cohesively toward one common goal, making for an exciting opportunity to grow even faster," Ross Green said. "The market research technology industry is an exciting fast-paced environment with a lot of opportunity for growth, and I am very much looking forward to the journey with Lisa and the CIVC Partners team."
Originally from London, Ross resides today in Colorado with his wife, daughter and dog.
About InnovateMR
InnovateMR is a fiercely independent sampling and ResTech company that delivers faster answers from business and consumer audiences utilizing technologies to support agile research. As industry pioneers, InnovateMR connects organizations with targeted audiences around the world and develops forward-thinking products to support informed, data-driven strategies, and identify growth opportunities.
InnovateMR's newest award-winning product collection, the Vision Suite™ offers researchers a comprehensive collection of next generation products designed to execute against all aspects of the research process including survey design, sample procurement, field management, fraud mitigation and reporting. Our proprietary platform delivers results faster without sacrificing quality.