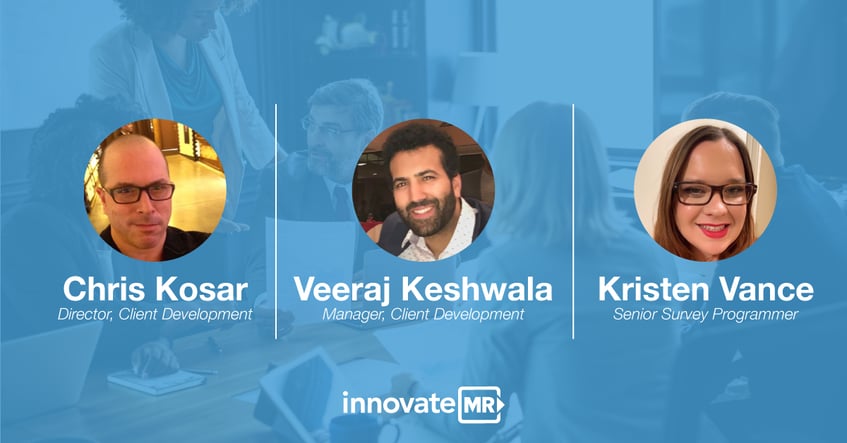 CALABASAS, CA – InnovateMR is thrilled to welcome three industry veterans to the US team: Chris Kosar, Veeraj Keshwala, and Kristen Vance. Chris and Veeraj will support the team's client development initiatives following investment from CIVC Partners, and Kristen advances the team's programming and hosting offerings.
About Chris Kosar – InnovateMR Director, Client Development
Born and raised in NYC and a graduate from Hofstra University, Chris Kosar has spent more than 17 years working within the consumer insights community as a lead business development executive at both The Advertising Research Foundation (The ARF) as well as GreenBook, (NYAMA). He recently spent the last 4 years helping research startups grow their businesses at his own consulting firm. When not busy working, you can see him cooking elaborate meals for friends and family and loves a good night out with karaoke, movies, or Broadway theater.
"Chris brings a wealth of knowledge from a variety of senior positions within the market research industry," Bryant Leech, VP of Agile Insights and Platform Solutions, said. "We are excited to collaborate on the future of the Vision Suite."
About Kristen Vance – InnovateMR Senior Programmer
Kristen has over 12 years of experience in survey programming and project management, most recently, leading programming teams through the entire software development life cycle at Luce Research. She has extensive experience in survey programming for a variety of mediums including phone, online, face to face, SMS, and more. Kristen is based out of Colorado with a computer science degree from the University of Colorado, Colorado Springs.
"Adding Kristen's expertise and tenure to the InnovateMR team is going to be a huge value add for our full-service offerings," Joe DiGregorio, Senior Director of Programming, said. "She will be able to provide direction in our future growth and expand our programming and hosting capabilities."
About Veeraj Keshwala – InnovateMR Manager, Client Development
Based out of Connecticut with a BBA degree from Pace University, Veeraj joins the InnovateMR team from Dynata (previously SSI) after close to a decade of experience in sales and business development. With a deep passion for meaningful client relationships, Veeraj looks forward to expanding InnovateMR's market presence as a top-quality research partner.
"Veeraj has years of experience in guiding clients through the research journey and is well equipped to offer the same high-touch service to clients here at InnovateMR," Josh Mankiewicz, Associate Vice President of Client Development at InnovateMR, said.
About InnovateMR
InnovateMR is a fiercely independent sampling and ResTech company that delivers faster answers from business and consumer audiences utilizing technologies to support agile research. As industry pioneers, InnovateMR connects organizations with targeted audiences around the world and develops forward-thinking products to support informed, data-driven strategies, and identify growth opportunities.
InnovateMR's newest award-winning product collection, the Vision Suite™ offers researchers a comprehensive collection of next generation products designed to execute against all aspects of the research process including survey design, sample procurement, field management, fraud mitigation and reporting. Our proprietary platform delivers results faster without sacrificing quality.