Encino, CA., June 11, 2018
– InnovateMR, one of the leading online survey sampling solution providers, unveiled the highly anticipated
Pegasus Self-Service Sampling Platform
.
Pegasus combines the power of a professional sample access platform, rich in user functionality, with impeccable ease-of-use.
The platform gives market research professionals the ability to manage sampling projects and control multiple survey respondent supply sources directly within the Pegasus Job Management tools. The platform is a multi-user solution that allows for sharing of responsibilities and visibility across distributed project management teams.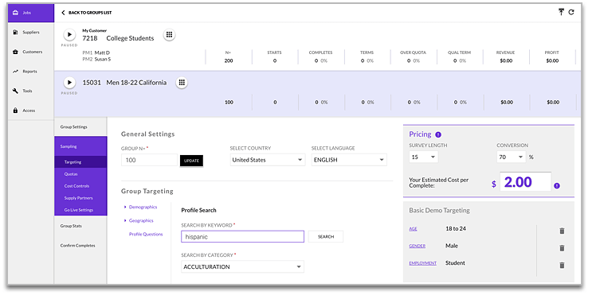 "We are responding to our clients call for faster answers. They are feeling the pressure from brands that want quicker turnarounds and speedy insights" said Matt Dusig, Co-founder. Dusig continued, "In developing our platform, we leveraged our 20 years of experience building seven different sampling platforms in the online sample sector. Our goal has always been to bring greater feasibility, higher quality data and reduced field times while empowering users with the ability to harness survey respondents at their convenience."
With over 125,000 daily survey respondents fueling the Pegasus platform, and more new customers switching to Pegasus, the company is ramping up investment in its sample access platform and developing new functionality. Recently, the company released the first ever sample feasibility tool embedded directly into the Google Chrome browser and available in the Chrome Webstore. This version gives Pegasus users survey respondent pricing, feasibility size and an estimated range of days required in field, for even the most exacting audience segments.
Innovate is one of the fastest growing sample companies in the industry founded by industry pioneers who launched both goZing (acquired by Greenfield Online) and uSamp (acquired by Survey Sampling). The company co-founders have spent two decades in the online sampling industry developing innovative new ways to harness research technology and survey audiences around the globe.
Matt Dusig concluded, "market research clients' are quickly adopting research productivity and sample access tools. They want platform options that are easy-to-use and provide a user experience designed with high performing product features. Moreover, at the end of the day, they need to demonstrate ROI and deliver quicker survey data by employing technology like Pegasus."
For more information or for a live demonstration, visit PegasusMR.com or email: info@PegasusMR.com
About InnovateMR
InnovateMR is a fiercely independent sampling company that delivers

Faster Answers™ from business and consumer audiences. Industry pioneers, Innovate helps market research agencies worldwide answer business questions and uncover insights with online and mobile surveys. Serving both EU5 and North American clients with quicker turnarounds and sourcing hard-to-reach audiences.