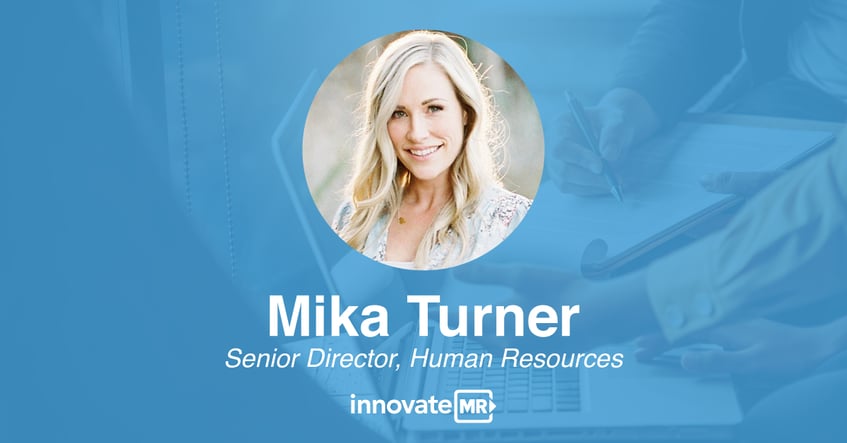 CALABASAS, CA – InnovateMR is continuing to expand its senior leadership team to deliver both high quality insights to clients and an empowering inclusive culture for all team members. Mika Turner joins the team as Senior Director, Human Resources, working to build upon the unique team dynamic that makes the InnovateMR team exceptional.
About Mika Turner, Senior Director, Human Resources
Earning her BA in Psychology in 2005, Mika began her career as a social worker in Los Angeles. She later found her passion in Human Resources and completed her Professional Human Resources certificate from HRCI in January 2013. Continuously learning, Mika is an active member of the Society for Human Resource Management and regularly attends organizational development trainings to ensure that she remains on the cutting edge of HR trends.
"Mika's goal is to lead with empathy and integrity. Her career focus within HR has been in organizational design, driving a supportive and inclusive culture, and creating change-based employees," said InnovateMR Chief Operating Officer, John Tan.
Mika has spent the last 12 years in HR, spanning across the market research, and other tech-based industries. She returns to the market research industry after beginning her career with the founding team at uSamp/Instantly. In her last position at Getac, Inc., she transitioned a traditional HR department into a people operations team. Mika designed and launched a performance review platform, implemented an applicant tracking system to streamline the interview process, and built a company wellness plan.
"Fueled by our recent investment, Mika's hiring comes as we begin to scale into our next phase of company growth," said InnovateMR Chief Executive Officer, Lisa Wilding-Brown. "She will ensure that as we enter this next chapter, we never lose sight of our people-first focus and remain fiercely protective of our amazing company culture that makes InnovateMR such a great place to work."
Mika is passionate about people, inclusivity, and professional advancement, working to set an example to her young daughter every day. She is dedicated to making the business world a better place and to demonstrate for her family that anything is possible.
About InnovateMR
InnovateMR is a fiercely independent sampling and ResTech company that delivers Faster Answers™ from business and consumer audiences utilizing technologies to support agile research. As industry pioneers, InnovateMR connects organizations with targeted audiences around the world and develops forward-thinking products to support informed, data-driven strategies, and identify growth opportunities.
InnovateMR's newest production collection, the Vision Suite™ offers researchers a comprehensive collection of next generation products designed to execute against all aspects of the research process including survey design, sample procurement, field management, fraud mitigation and reporting. Our proprietary platform delivers results faster without sacrificing quality.