Recently, we conducted a nationwide consumer survey to identify key themes and insights around automotive pre-dealership buying and preferences. We asked a series of questions designed to uncover the willingness of consumers to pay more for alternative power trains, how much time they spend researching new vehicle purchases online, and the importance of free maintenance in their buying decisions.
There are more options than ever before for consumers when they research new vehicles – from traditional choices like make, model, and trim, to modern choices around the powertrain and sustainability.
That complexity was best reflected in the amount of time survey participants indicated they spent researching a new vehicle purchase online. Nearly four in ten indicated they spent at least 8 hours researching their decision, and more people between the ages of 35-54 spend 8 hours or more than any other age group.
"The data shows a strong trend of consumers spending more time online before they show up at the dealership. Empowering themselves with invoice pricing, quality reports and safety results. Consumers are spending more time researching vehicles online and devoting less time to the physical dealership," said Lisa Wilding-Brown, Chief Research Officer, InnovateMR.

Factors Influencing Willingness to Pay More


Currently, one of the most influential factors in automotive purchasing decisions is powertrain. Our survey indicated that 66% of consumers would consider spending more for an alternative power train, most of them because of the fuel consumption benefits of having such a feature.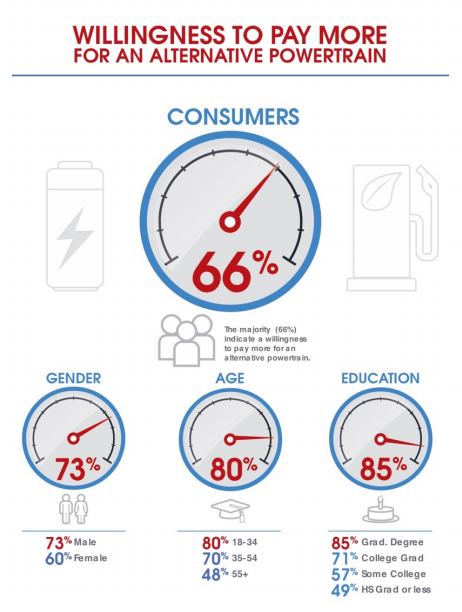 "Consumers are hungry for new technology and power train alternatives. Growth trends are accelerating in certain regions of the United States. Fueling the growth is battery efficiency, increases in engine HP and larger vehicles being offered," said Lisa Wilding-Brown. "The question becomes, what is the tipping point for cost/payback and mainstream consumer buy-in to alternatives."
There were several other features cited by participants when deciding how much to spend on a new vehicle - from overall sustainability to safety and performance.

Free Maintenance

Another important factor is the inclusion of free maintenance with a new car purchase. More than 50% of consumers surveyed indicated that free maintenance was very important for them when purchasing a new vehicle.

About the Survey


The survey was conducted with 700 participants from the InnovateMR panel, nationwide by age, education and marital status. The full report is available for download and includes detailed summaries of participant responses to all three questions.