Thinking about trying out DIY Sampling? Need quick and quality sample but don't have time for another demo? Look no further! Our second generation platform provides real-time access to high quality, richly profiled respondents.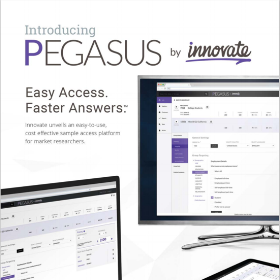 Pegasus was designed with you in mind. Innovate's sleek and easy to use self-serve sampling platform, Pegasus, is available to you right now! Save time and money by using our DIY market research tool to get you easy access and Faster Answers™.

With the Pegasus Sample Access Platform, you can easily specify, price and populate your research study with qualified survey respondents and get results 10 - 20% faster than the traditional way of procuring sample.
Simply go to www.PegasusMR.com and click CREATE AN ACCOUNT. Use your company email address and you will receive an automated email to confirm your account and gain access to Pegasus on a trial basis.
Under your trial account you have full access to view and explore the entirety of our DIY sampling tool. Our support team will quickly review your submission to approve your account for full sampling access.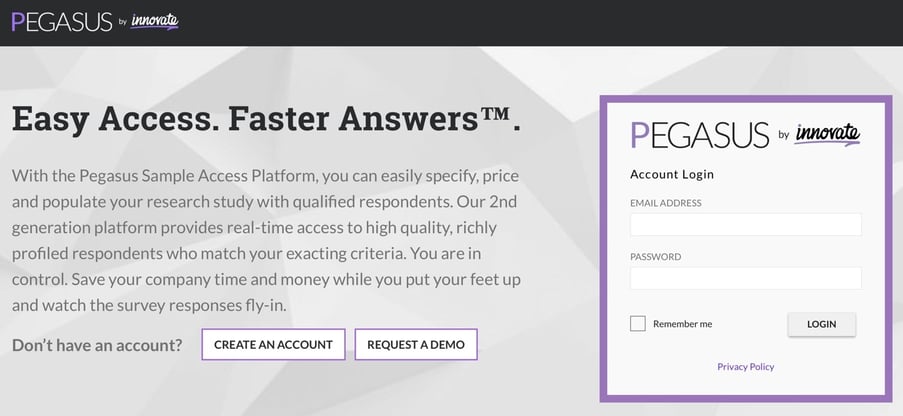 KEY FEATURES & BENEFITS OF PEGASUS
Access to Innovate's Proprietary Panel, PointClub!
Instant Access to Feasibility and Pricing
The Easiest to Use Sampling Platform
Powerful Quota Controls
Deeper Profiling and Targeting of Survey Respondents
No Monthly Infrastructure or Platform Costs
Use Other Sources of Sample
Create Your Own Screening Questions
Unlimited Users and Access Controls

Earn Instant Rebate with

Pegasus Perks
Compatibility with All Survey Authoring Tools
A SNEAK PEAK UNDER THE HOOD
WELCOME DASHBOARD

EASY TO USE TARGETING:
Create Census Rep Targeting and Quotas with a Simple Click
Vast Profiling Library
Create Your Own Custom Screening Questions
Real-time Updates to Feasibility and Pricing as You Build Your Target Audience

You are so close to accessing survey respondents. Increase your productivity, reduce your costs and get quality sample. Ease-ability. Feasibility. Reliability. Get your Pegasus account today!