Every project is different, with unique sample needs and potential challenges. You likely have many questions about your sample, so we've built a library of resources to answer them. Our new Resource Library includes detailed panel documents, eBooks and white papers, and additional resources featuring members of the Innovate team for your reference.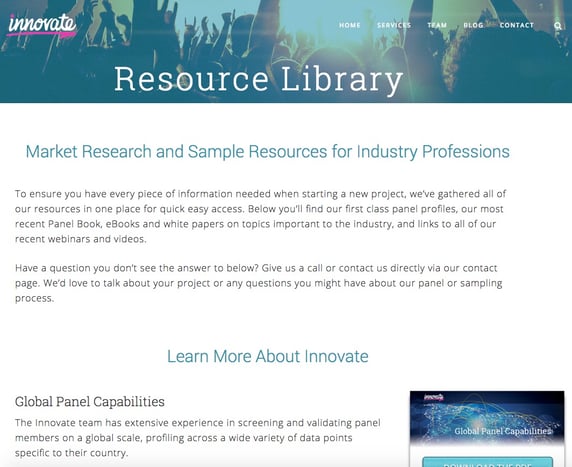 Our resource library is designed to provide greater insights into the specific panel you need for your project. Whether you're interested in our B2B First Class Panel, medical insights from our Patient Club Panel, or parenting participation from our Parent Club Panel, we have a wide range of documents designed to showcase how we recruit, what we ask for from our respondents, and what goes into matching panel to specific projects.
Click the links below to find all the following, and check back regularly for updates including additional insights into each of our panel profiles, new eBooks and white papers, and recent webinars and videos from the Innovate team:
You can also view all of our recent webinar recordings on our YouTube Channel here. These include "Everyone Cares About Sample Quality, But Not Everyone Values It!" and "Engaged: How to Get Respondents to Say 'I Do!'"
If you have any questions, give us a call or contact us directly via our contact page. We'd love to talk about your project or any questions you might have about our panel or sampling process.