Because of your great feedback, we have added new features and functionality to Pegasus to make it even better. Here's an overview of new features that are available now:
US Census Rep Automation
Import Targeting and Quotas from Other Jobs
Quotas Update Automatically based on % or N needed
Job Alert Status and Color Coding
Easier Go Live Functionality
Digital Fingerprinting Controls for Supplier Traffic
US CENSUS REP AUTOMATION
You now have the ability to select Census Rep (under Targeting) and then choose from 6 fields to auto-create a census representative sampling frame. After you select the options you need and hit SAVE, Pegasus will create all the appropriate targeting buckets.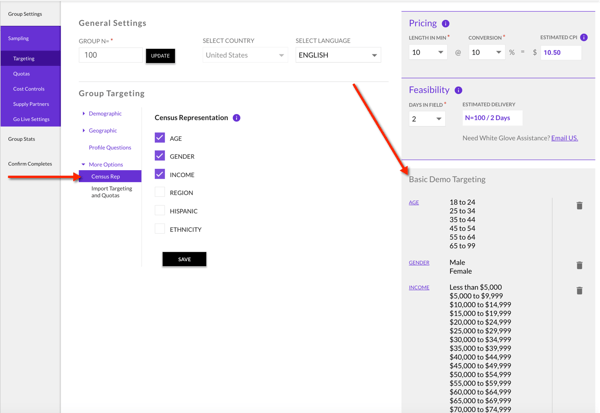 And, if you click on the Quotas tab, you'll see the all the quotas have been automatically setup for based on your N size.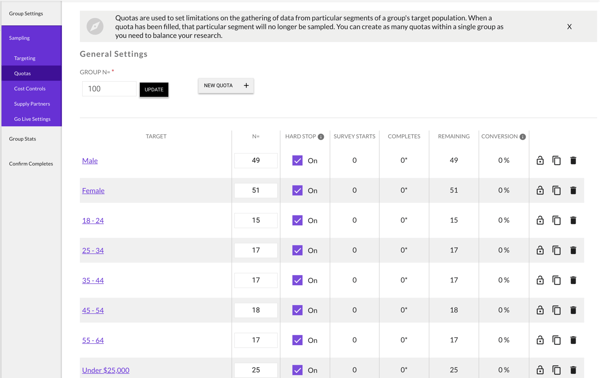 If you change your N Size, then each individual quota will change to match the appropriate census %'s.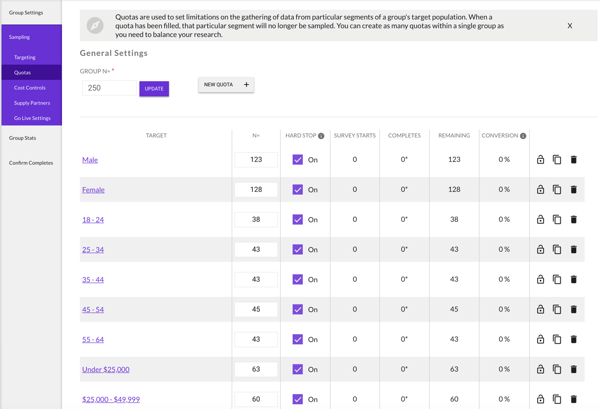 IMPORT TARGETING AND QUOTAS


FROM OTHER JOBS
Now, you can easily import all your targeting and quota settings from a job you've previous setup. Under Targeting, click Import Targeting and Quotas. Then you can search for previous jobs by job number, group number or any keyword.
Once you select the Group above, all the targeting and quotas will be imported, as shown below.
QUOTAS BASED ON %'s
When setting up a quota, you can now select either the N desired for the quota or enter the % of your total Group's N and the system will automatically calculate the appropriate N needed. As shown below, where we set the Quota % at 25%.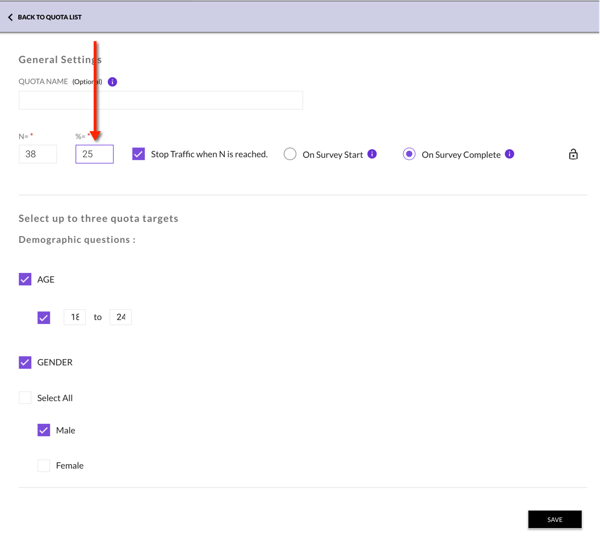 JOB ALERT STATUS AND COLOR CODING
Sometimes jobs don't go as planned. And when you have many team members touching jobs or overlapping employee shift changes, it's nice for everyone on the team to be alerted when jobs are in trouble.
Within each group, you'll now see a STATUS drop down. Clicking it allows you to color code jobs as Red or Yellow, flag multiple reasons that the job is struggling and enter specific notes.
After hitting Save, the job will be flagged in the color selected and visible both within the job and within your entire job list view. Below, the Beer Drinker's job flagged as yellow below and the individual group is also flagged in yellow. This visual switch let's your team immediately know what jobs needs attention.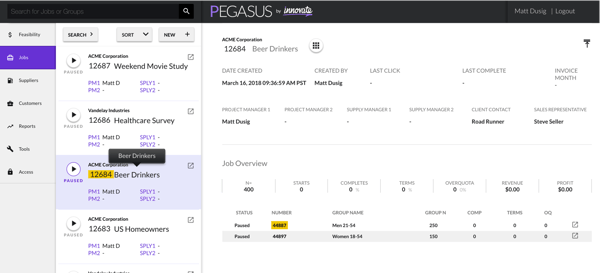 EASIER GO LIVE FUNCTIONALITY
Previously, Pegasus required that you test BOTH the success and fail redirect links were working properly. Based on feedback from our clients, we've made this even easier. You now only need to test for a fail, and once that's done, you can go live.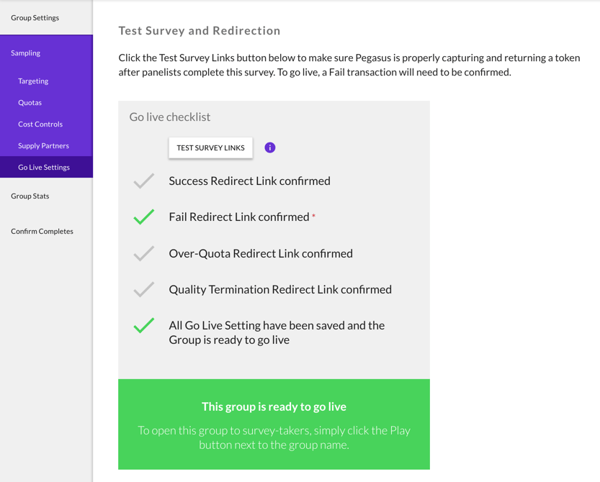 YOUR SUPPLIERS and DIGITAL FINGERPRINTING
Digital fingerprinting prevents duplicate survey takers from getting into your surveys. But now you can turn off digital fingerprinting for any supplier traffic that you bring through Pegasus. As you know, Pegasus was built as a multi-supplier platform, so that you can use the Innovate panel, your own panels or any sampling company that you choose. To turn off Fingerprinting, just flip this switch on the Supply Partners tab. Fingerprinting will always remain ON for the Innovate panel.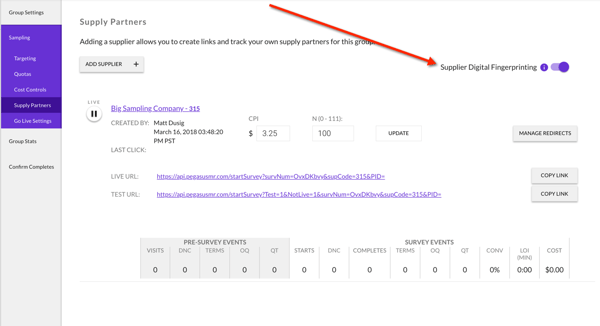 Additional new features are coming to Pegasus, so stay tuned.
Send us your thoughts and feedback to support@PegasusMR.com.