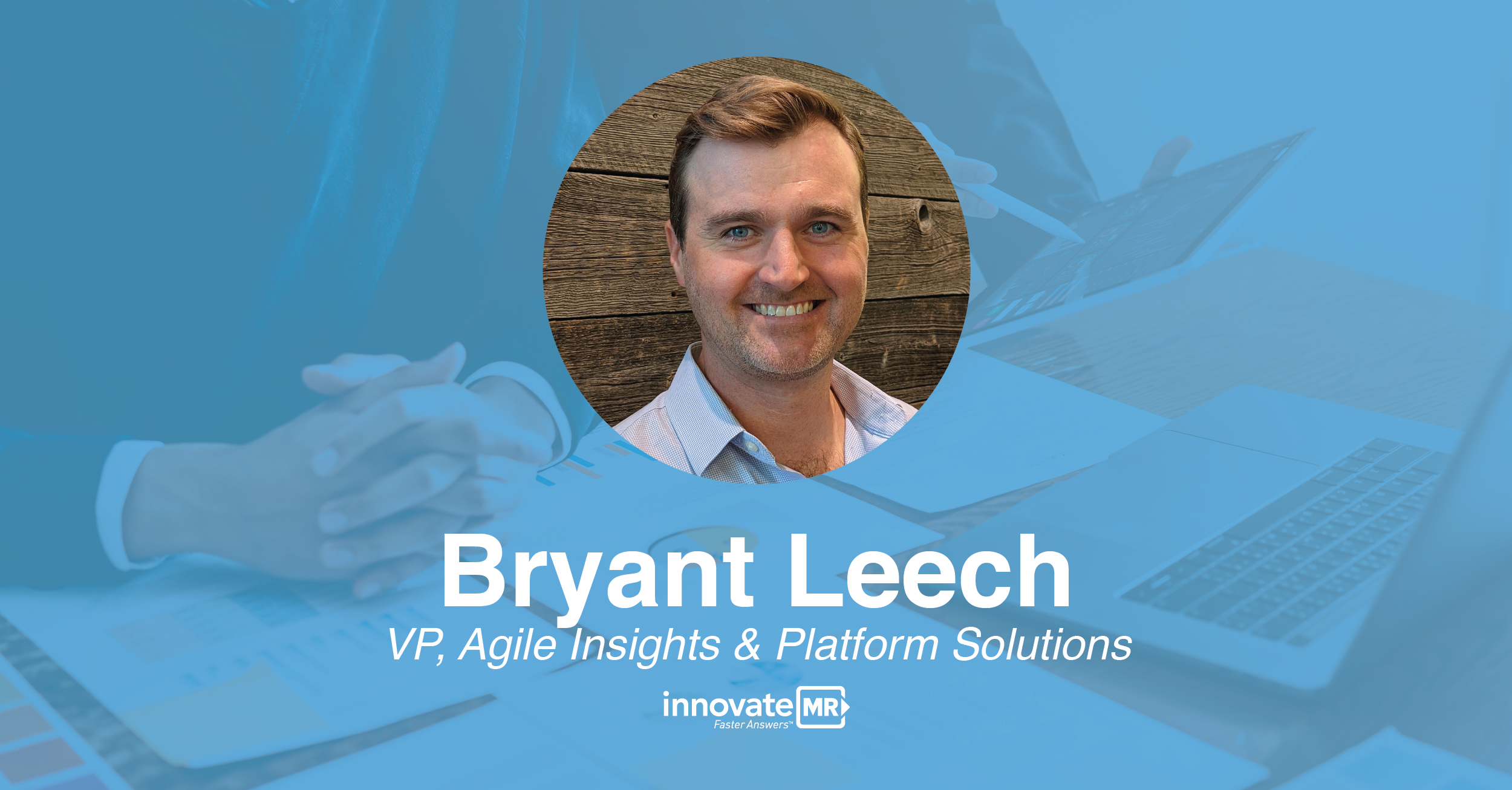 InnovateMR is continuing to expand its senior leadership to deliver high quality insights to clients and further demonstrate the company's brand promise of Faster Answers™. Bryant Leech joins the team as VP, Agile Insights & Platform Solutions, working to evangelize the team's Vision Suite™ product collection.
About Bryant Leech, VP, Agile Insights & Platform Solutions
Bryant is an accomplished client services leader with experience managing engaged teams and expanding technology offerings. He is a dedicated business partner, working to deliver faster data to empower business insights for research professionals. His previous role in both product development and high-touch client sales at Nielsen as VP, Design Solutions allows him to make impactful recommendations to brands, helping to position their studies for success.
"The problem that the InnovateMR team is working to solve with the Vision Suite™ is important, and it is going to be vital as brands pivot to using internal methods for their research needs," Bryant said. "When I look for new opportunities, I look for the value propositions of products with a great team, and that's what I have found here at InnovateMR. It is exciting to be on the cutting edge of this kind of technology."
Bryant began his market research career managing a team of in-person customer satisfaction researchers for a ski resort in Colorado, eventually pursuing his Master of Science in Market Research from Michigan State University to round off his experience in the field. Upon joining a startup, that was acquired by Nielsen, he worked in London for nearly 4 years, giving him a seasoned view of the European market before returning to the U.S. to focus on product design solutions. At InnovateMR, he will primarily be working to connect brands with the research tools essential to taking better control of their insights and making more informed business decisions.
"Today, the adoption rate of internal research tools continues to rise for brands around the world. Technology has empowered not just researchers, but other internal stakeholders, to use quick-pulse data to make better and more informed decisions." Lisa Wilding-Brown, InnovateMR's Chief Executive Officer said, "Bryant's hiring could not have come at more crucial time. The always-on economy of modern consumerism requires faster answers to stay ahead, and Bryant plans to deliver just that. We are steadfast in this commitment to clients as we continue to expand the offerings of our Vision Suite™."
About InnovateMR
InnovateMR is a fiercely independent ResTech company that delivers Faster Answers™ from business and consumer audiences utilizing technologies to support agile research. As industry pioneers, InnovateMR connects organizations with targeted audiences around the world and develops forward-thinking products to support informed, data-driven strategies, and identify growth opportunities.
InnovateMR's newest production collection, the Vision Suite™ offers researchers a comprehensive collection of next generation products designed to execute against all aspects of the research process including survey design, sample procurement, field management, fraud mitigation and reporting. Our proprietary platform delivers results faster without sacrificing quality.